Succeed with MGS!
Committed to setting standards of excellence in each area of our business, we've always been pioneers—investing in the people, technology, and capabilities needed to deliver true innovation and maximum performance.
MGS provides a competitive salary with a comprehensive benefits package to our employees that reflects each location's policies, practices, laws, and market. As we are a global company, compensation packages vary by location.
MGS creates and delivers integrated plastics solutions that our customers trust to drive business performance and growth. We know what it takes to be a best-in-class manufacturing partner through years of experience in precision tooling, custom molding and equipment manufacturing. We have been dedicated to servicing the plastics industry since 1982 and have facilities worldwide.
Fueled by a "get it done" attitude and an entrepreneurial spirit, our core values of teamwork, integrity, passion and safety have shaped us as a global leader with manufacturing facilities around the world. Headquartered in Germantown, Wisconsin, MGS partners with some of the most recognized Pharmaceutical, Diagnostic and MedTech leaders to deliver innovations that improve lives.
At MGS, we also stand by the firm belief that there's no substitute for quality work. Whether working on the floor or in an office, it's every employee's responsibility to focus on quality and doing things right the first time. If taking pride in your work is important to you, then you will fit in here.
There are many reasons why pursuing a manufacturing job or career in plastics at MGS is a good decision.
Here are just a few.
Unlimited Growth Opportunities
Employees are a valued and important part of MGS' success. We promote from within whenever possible and recognize that training and development are key to our success.
We offer a rigorous onboarding program, professional development and career training, an employee recognition program and ample opportunities for employee growth and promotion. At MGS, we believe in helping our employees achieve their goals and continue their pursuit of successful careers.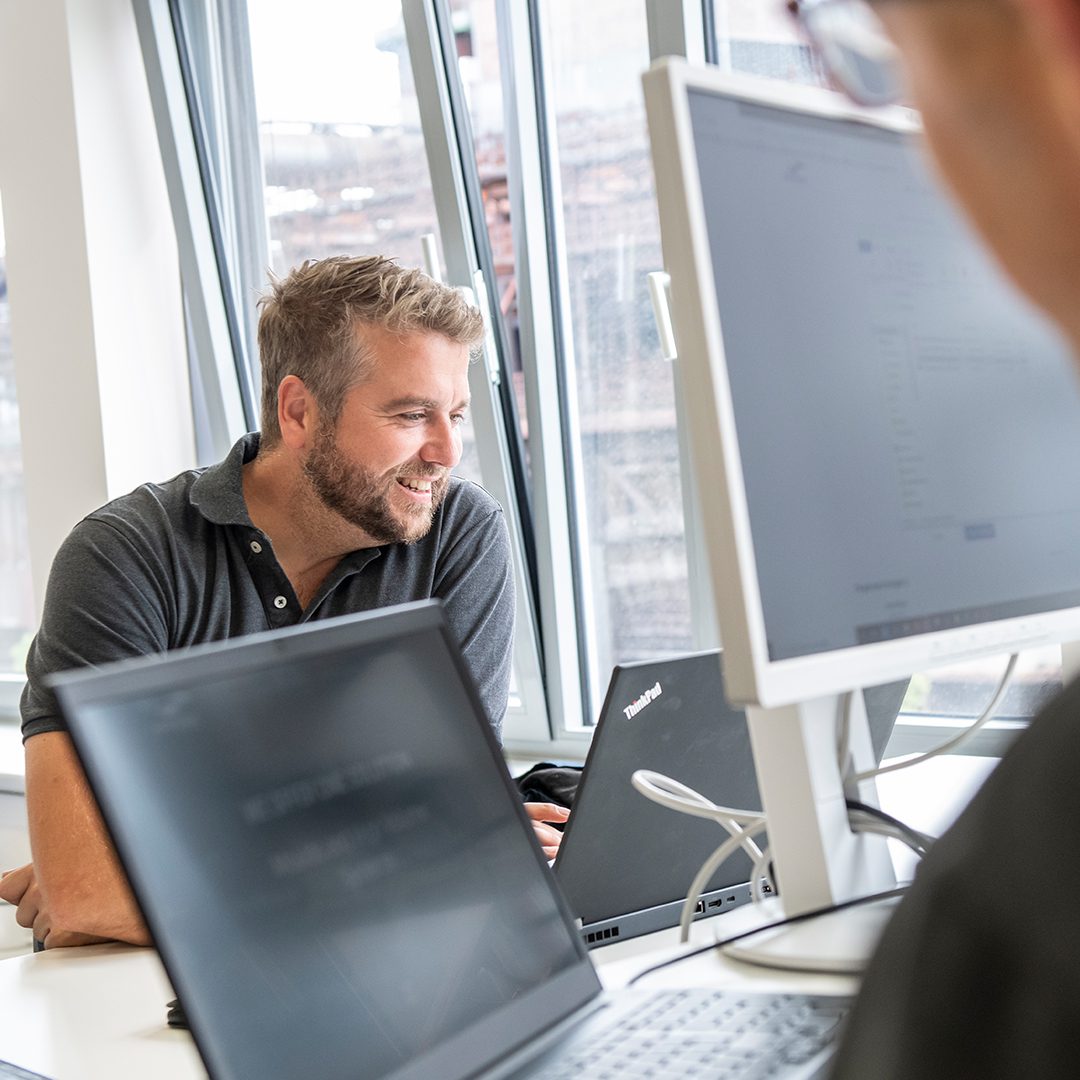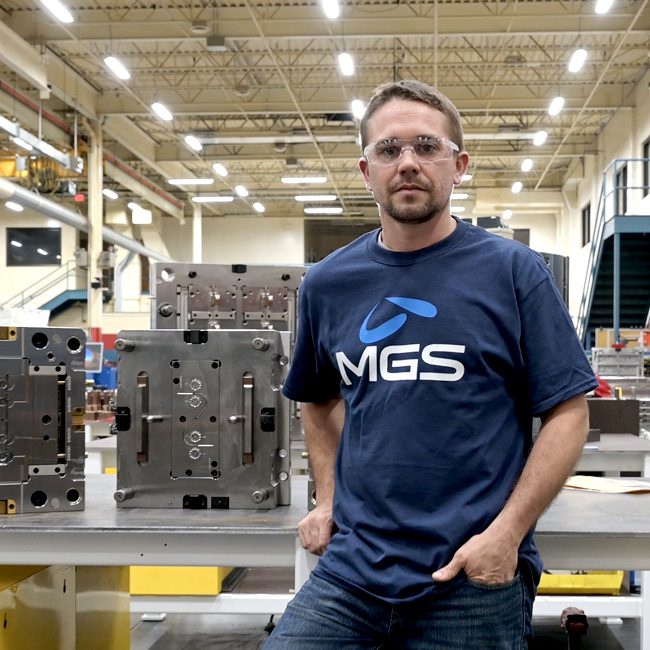 MGS has been accredited in the Wisconsin Apprenticeship Program for over 20 years. In 1996, our apprenticeship guidelines were presented to and approved by the state committee. Many of those guidelines, which went above and beyond the standards set by the state, were incorporated into the official state contract. MGS continues to improve its standards in order to provide the best apprenticeship program possible for our valued employees.
MGS offers apprenticeship programs for a variety of rewarding careers such as Tool & Die, Mold Making, CNC Machining and Tool Design. For more information about our apprenticeship opportunities, please send an email to [email protected] with "MGS Apprenticeship" in the subject line. Be sure to include your name and phone number with your correspondence.
For more information about the benefits of apprenticeship and how it works, please visit the State of Wisconsin Department of Workforce Development website.
We have locations in seven countries across the United States and Europe. Explore each of our worldwide facilities!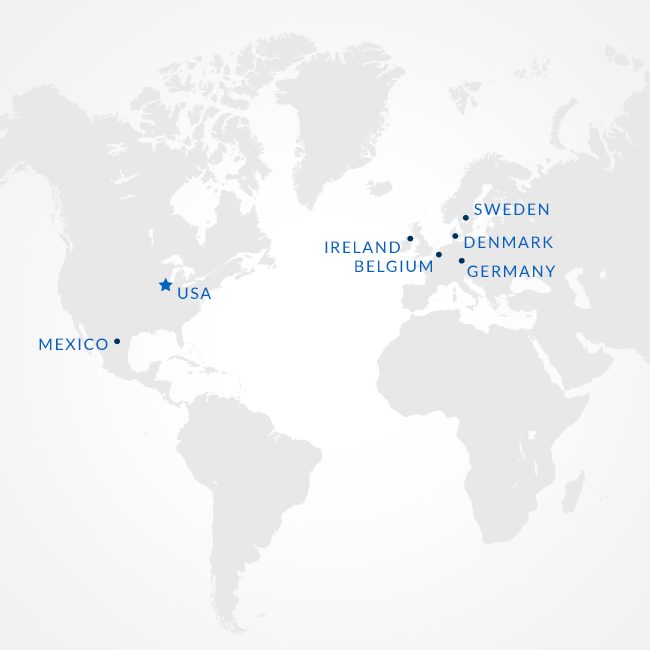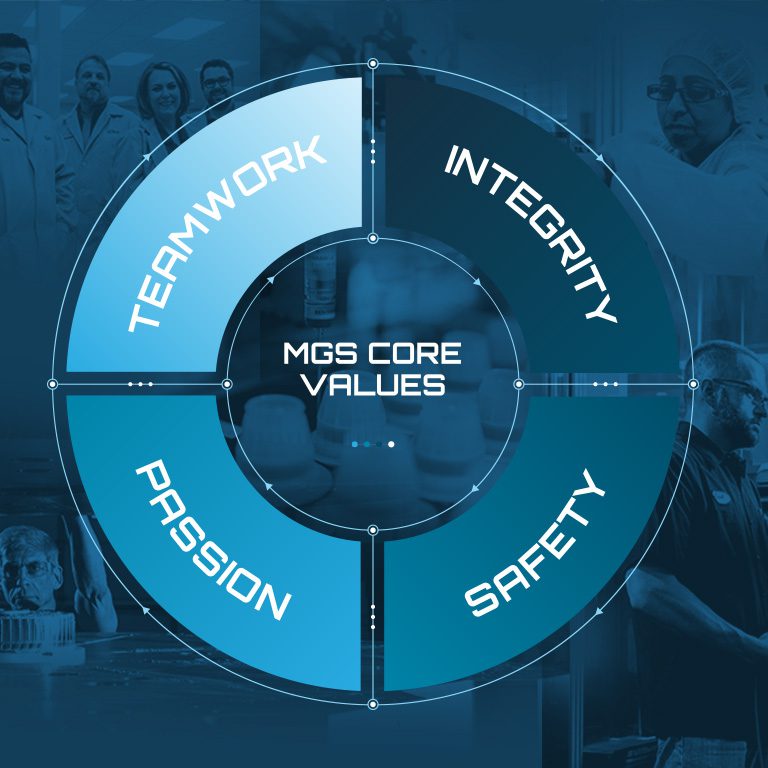 Our commitment is to set the standard of excellence in each area of our business. At MGS, our core values are our T.I.P.S for success!
It's not all work here – we have FUN as well! Each facility has activities that are specific to their location and culture from volleyball games and fun runs to company outings.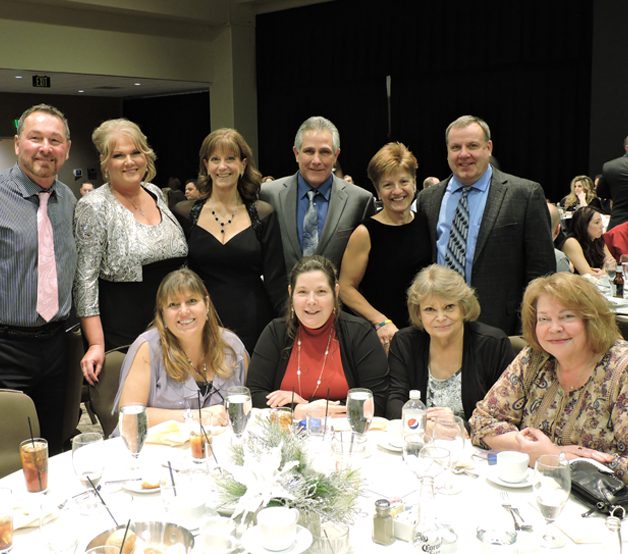 Community, Education & Industry Involvement
At MGS, we believe in the importance of being good corporate citizens and giving back to the communities where we live and work. We are proud to support our local communities through organized charity events, food and clothing drives, corporate sponsorship of several non-profits, and educational events and sponsorships.
Local Students Tour MGS
MGS welcomed Kewaskum High School, Port Washington High School, and Moraine Park Technical College students and instructors to our Tooling and Plastic Injection Molding Facilities in Germantown. The students enjoyed a tour of our facilities where they were able to see real-life examples of what manufacturing looks like outside of the classroom. During the tour they learned about how tools are made, plastic injection molding, and automation systems. It was a pleasure hosting the students!
MGS Educates Youth About Manufacturing
MGS had a booth at the 2023 Manufacturing and Trade Career Expo (MTCE), which was held on October 18-19 at the Washington County Fair Park and Conference Center. This expo is a great opportunity for high school and middle school students from 24 different schools to learn about different career opportunities within the manufacturing and trades industries. While there, we were able to show examples of products we make, what our molding operators look for when packaging products, and speak to our apprenticeship opportunities.
This year marked the 14th year of the MTCE. To date, over $80,000 in scholarship funds have been raised through the event. Each year, a portion of the proceeds from the MTCE are dedicated to funding education scholarships. These funds, along with corporate MTCE scholarship contributions, are distributed to graduating seniors from each of the chamber partnership school districts. It is the hope of the MTCE that one day, a scholarship recipient will come full circle and establish a career with a local manufacturer.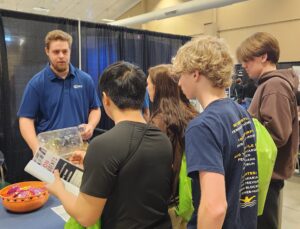 Mock Interviews with Local Students
MGS volunteered to participate in conducting mock interviews with students at Slinger High School to help prepare them for the world of work. Students put together resumes and cover letters and they were able to practice their handshakes, get feedback on their resumes and cover letters, and practice interviewing for jobs they are interested in post-graduation. MGS is proud to continue supporting our local high schools and students in building a better future.
Washington County College and Career Fair
MGS attended the 2023 Washington County College and Career Fair. This fair is meant to inspire students by seeing different job opportunities available throughout Washington County. The 1000 students in attendance were able to learn about the engineering, production, automation, tooling, and office career paths at MGS. The students looked at examples of medical devices we manufacture and learn more about what these products are used for in the medical field. Not only were students learning about the different careers in plastics manufacturing, but they also were able to get a glimpse of what it takes to produce medical device components.
MGS Holds 11th Annual Food Drive
MGS held it's 11th Annual Food Drive November 1-30, 2022 and we are pleased to share that our employees have generously donated $5,500.00 to the Hunger Task Force during this year's virtual drive.
MGS committed to matching all employee donations which means our food drive resulted in total donations of $11,000.00 to the Hunger Task Force this holiday season.
The Hunger Task Force believes that every person has a right to adequate food obtained with dignity. They work to prevent hunger by providing food to people in need by delivering food free of charge to a local network of 70 food pantries, soup kitchens, and homeless shelters in the Greater Milwaukee area. These donations will make a significant impact in the lives of local families facing food insecurity this holiday season.
Thank you again to those that donated for your kindness, generosity, and support of this very important cause. Our food drive wouldn't have been a success without you. Together we WILL make a difference!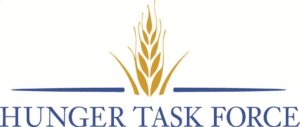 Charitable Contributions & Chamber of Commerce Membership
The MGS Mfg. Group is devoted to helping those in need. Through organized charity events, the company raises money, clothing and non-perishable food items for local charities while generating awareness throughout the community. As a member of the Germantown Area Chamber of Commerce, we participate in area programs that better the community in which we do business.
Educational Support
MGS provides support to local schools at both the high school and college level in a variety of ways. The company offers facility tours to students who are interested in learning more about our industry and the breadth of career opportunities that are available. MGS also participates in career fairs, which give students the opportunity to speak directly with employers and gets them thinking about their long-term career goals. Additionally, the MGS team works one-on-one with instructors and curriculum developers of various schools to determine how we can support students through intern/apprenticeship programs, hands-on training sessions and more.
EQUAL OPPORTUNITY
MGS is a world leader in providing optimized manufacturing solutions to the plastics industry.
Proud to be an Equal Opportunity Employer, MGS is committed to providing equal employment opportunity to all applicants and employees regardless of their race, color, creed, religion, sex, age, national origin, disability, marital status, sexual orientation, military status, predisposing genetic information, or any other characteristic protected as established by local, state, or federal law. We are strongly committed to this policy and believe in the concept and spirit of the law.
Know Your Rights: Workplace Discrimination is Illegal
Notification of E-Verify Participation
Employee Rights under the Family and Medical Leave Act
DISCLAIMER
MGS does not accept unsolicited resumes. In order to be considered, applications must be submitted online and must identify the position you are applying for. If you wish to request an accommodation, please contact the HR department at [email protected]. Please revisit our site often as new positions are updated as they become available.
Notice to Agencies and Search Firm Representatives: MGS Mfg. Group does not accept unsolicited resumes from agencies and/or search firms for any job posted. Without a valid agreement in place for the position listed, MGS Mfg. Group will not pay a fee to the agency or search firm in the event that a candidate is hired for a position as a result of an unsolicited agency or search firm referral.