Career Events
MGS attends various career fairs throughout the year to educate students about the manufacturing industry and the rewarding careers we have to offer. Stop by and see us to learn more about MGS and some of the products we produce for our customers.
Manufacturing Career Expo
Date: Wednesday, October 23 & Thursday, October 24
Time: 8am-2pm & 8am-12pm
Location: Washington County Fairgrounds Pavilion, West Bend
More

⟶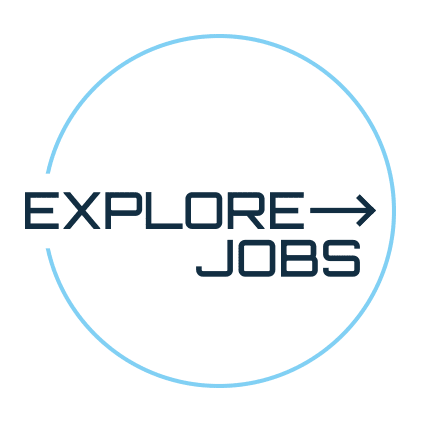 MGS creates and delivers integrated plastics solutions that our customers trust to drive business performance and growth. We know what it takes to be a best-in-class manufacturing partner through years of experience in precision tooling, custom molding and equipment manufacturing. We have been dedicated to servicing the plastics industry since 1982 and proudly employ over 1,800 employees worldwide.
Fueled by a "get it done" attitude and an entrepreneurial spirit, our core values of teamwork, integrity, passion and safety have shaped us as a global leader with manufacturing facilities around the world. Headquartered in Germantown, Wisconsin, MGS partners with some of the most recognized companies in the world in the Healthcare, Automotive, Electronics and Consumer markets.
At MGS, we also stand by the firm belief that there's no substitute for quality work. Whether working on the floor or in an office, it's every employee's responsibility to focus on quality and doing things right the first time. If taking pride in your work is important to you, then you would fit in here.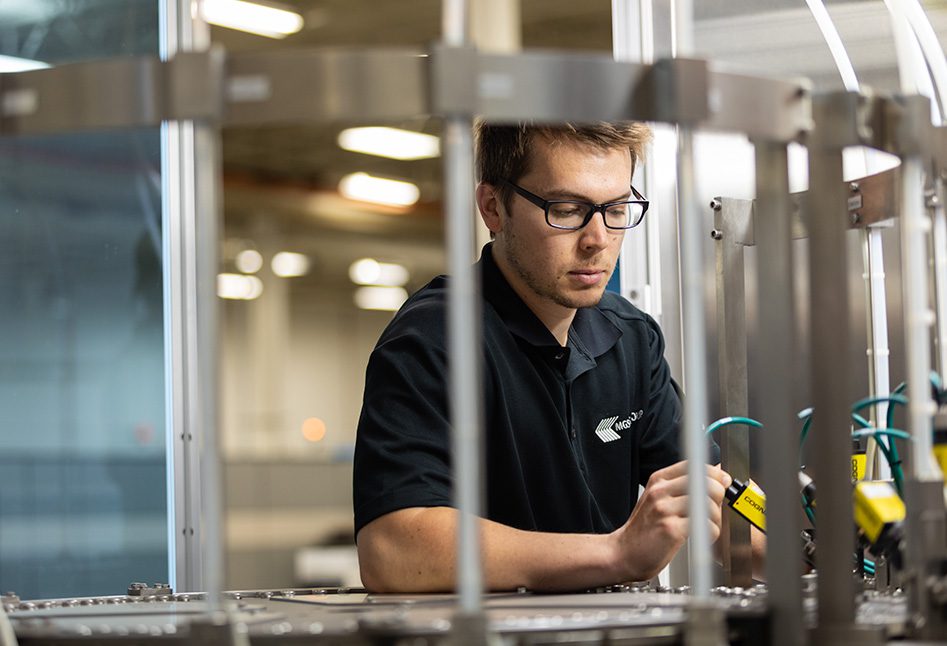 Why MGS
Committed to setting standards of excellence in each area of our business, we've always been pioneers—investing in the people, technology, and capabilities needed to deliver true innovation and maximum performance.
MGS provides a competitive salary with a comprehensive benefits package to our employees that reflects each location's policies, practices, laws, and market. As we are a global company, compensation packages vary by location.
There are many reasons why pursuing a manufacturing job or career in plastics at MGS is a good decision. Here are just a few.
Internal Growth Opportunities
Employees are a valued and important part of MGS's success. We promote from within whenever possible and recognize that training and development are key to achieving our success.
We offer a rigorous onboarding program, professional development and career training, an employee recognition program and ample opportunities for employee growth and promotion. At MGS, we believe in helping our employees achieve their goals and continue their pursuit of successful career.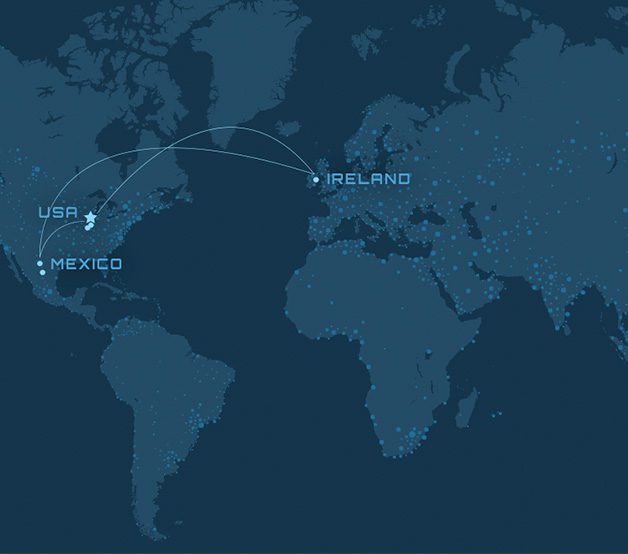 Global Footprint
MGS Mfg. Group is a global provider located in the United States, Mexico and Ireland.
Explore all of our worldwide locations!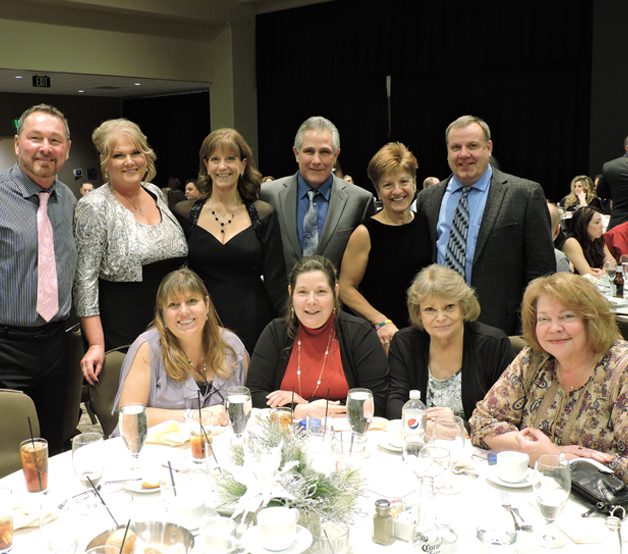 Company Events
It's not all work here – we have FUN as well! Each facility has activities that are specific to their location and culture from volleyball games and fun runs to company outings.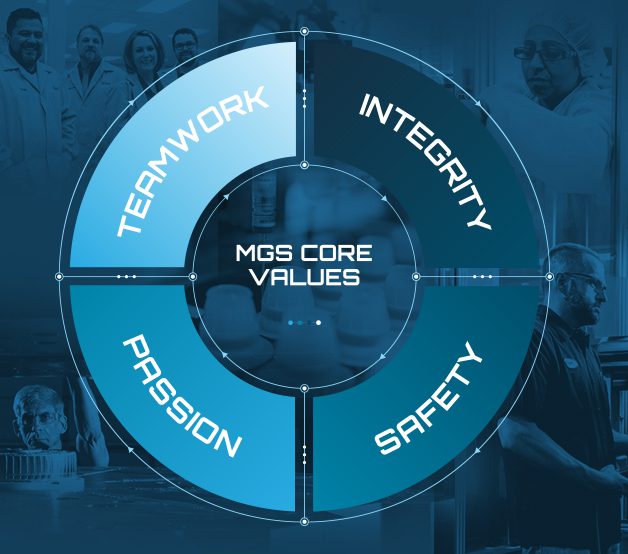 Core Values
Our commitment is to set the standard of excellence in each area of our business. At MGS, our core values are our T.I.P.S for success.
Community, Education & Industry Involvement
At MGS, we believe in the importance of being good corporate citizens and giving back to the communities where we live and work. We are proud to support our local communities through organized charity events, food and clothing drives, corporate sponsorship of several non-profits, and educational events and sponsorships.
Mock Interviews - Kennedy Middle School
May 17, 2019 – MGS participated in mock interviews with 8th graders at Kennedy Middle School in Germantown. The goal of the mock interview program is for students to experience the job interview process, which helps prepare them for on-site interviews in the future. The teachers did an amazing job demonstrating the interview process, from preparing for the interview, to the how and why of sending a thank you note afterwards. MGS had a wonderful time participating in this event and we wish these students much success in their career endeavors.
SCORES Cup Soccer Tournament
April 27, 2019 – MGS sponsored a team of employees at the 14th Annual SCORES Cup soccer tournament to benefit Inner City Youth.  The tournament helps provide high quality after school programs for grades 3K through 12, working with kids to develop skills surrounding health, academics, and self-expression in more than 25 program locations throughout Milwaukee.  This is the fifth year that MGS has participated.  Our team made it all the way to the Championship round, but fell short of the big win.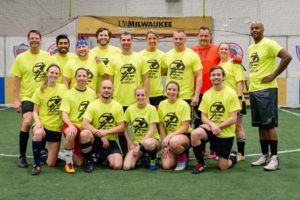 Middle School Interviewing Presentations
February 21, 2019 – MGS spoke to 5th and 6th graders at Richfield Middle School about the job application and interview process, helping them to get ready to participate in a virtual business through Junior Achievement. Junior Achievement helps students realize that the education they are getting today will help them to have a bright future tomorrow. The program fosters work-readiness, entrepreneurship, and financial literacy skills using experiential learning to inspire students in our community to dream big and reach their potential.
Germantown High School 9th Grade Tour
February 20, 2019 – Two groups of 9th grade students from Germantown High School visited MGS. The goal for this field trip was to better prepare students to make good post-high school choices as they begin to shape possible career path options for themselves. MGS representatives exposed them to the world of plastics manufacturing and explained the wide range of opportunities available.
Charitable Contributions
The MGS Mfg. Group is devoted to helping those in need. Through organized charity events, the company raises money, clothing and non-perishable food items for local charities while generating awareness throughout the community.
Educational Support
MGS provides support to local schools at both the high school and college level in a variety of ways. The company offers facility tours to students who are interested in learning more about our industry and the breadth of career opportunities that are available. MGS also participates in career fairs, which give students the opportunity to speak directly with employers and gets them thinking about their long-term career goals. Additionally, the MGS team works one-on-one with instructors and curriculum developers of various schools to determine how we can support students through intern/apprenticeship programs, hands-on training sessions and more.
Chamber of Commerce Membership
As a member of the Germantown Area Chamber of Commerce, we participate in area programs that better the community in which we do business.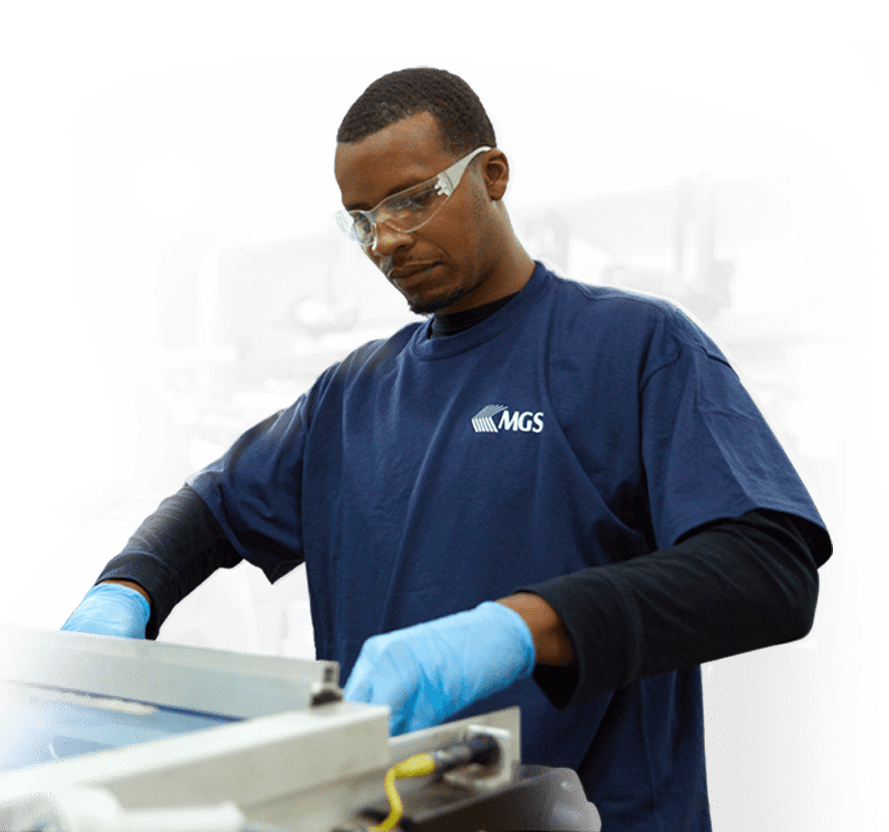 MGS has been accredited in the Wisconsin Apprenticeship Program for over 20 years. In 1996, our apprenticeship guidelines were presented to and approved by the state committee. Many of those guidelines, which went above and beyond the standards set by the state, were incorporated into the official state contract. MGS continues to improve its standards in order to provide the best apprenticeship program possible for our valued employees.
MGS offers apprenticeship programs for a variety of rewarding careers such as Tool & Die, Mold Making, CNC Machining and Tool Design. For more information about our apprenticeship opportunities, please send an email to contact@mgsmfg.com with "MGS Apprenticeship" in the subject line. Be sure to include your name and phone number with your correspondence.
For more information about the benefits of apprenticeship and how it works, please visit the State of Wisconsin Department of Workforce Development website at: https://dwd.wisconsin.gov/apprenticeship/individuals.htm

Contact Us
Want to find out what's happening at our facilities around the globe? Reach out to us.